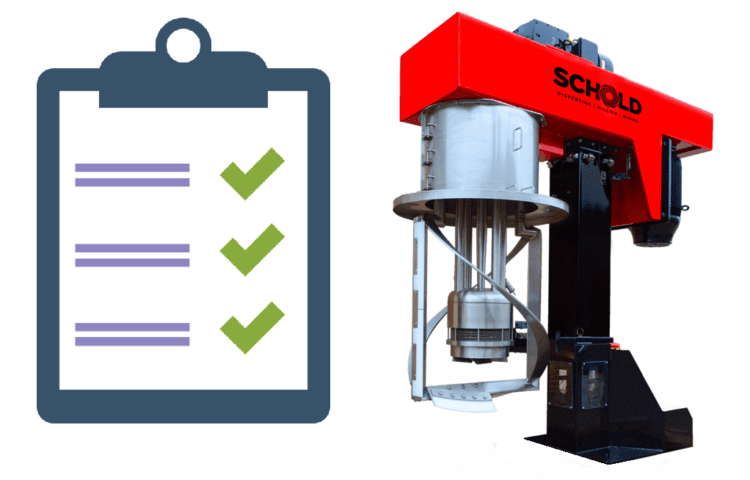 End of year is the perfect time to do some preventative maintenance on your machine. Here are a few recommendations to help maximize efficiency:
CLEAN THE SHAFT AND BLADE

Product build-up on the shaft can cause imbalance and even bend it in extreme cases
A dirty blade will negatively affect shear, which can increase run time and/or quality of product

CLEAR DUST FROM THE MOTOR, GEARBOX AND DRIVE COMPONENTS (BELTS, PULLEYS, BEARINGS, ETC.)

Performing this regularly will prevent overheating and premature wear
These parts should be replaced if showing signs of fatigue or excessive wear

GREASE ALL FITTINGS

This should be done weekly, but is often overlooked

CLEAN SPLATTER FROM THE PISTON SEAL

If this is a problem at your plant, Schold can provide a custom guard to protect the piston from splatter

PERFORM A SHORT RUN IN WATER, DETERGENT OR APPROPRIATE SOLVENT

This is very effective if the machine is to be left idle for a length of time or between successive mixing operations to clean the wetted parts
The wetted parts can be cleaned with plant standard cleaning agents provided that they are non-scratching
Most sanitizing chemicals, such as those that contain active chlorine, iodine, etc. are corrosive (to some extent) to stainless steel – where these chemicals are used, 316 Stainless Steel should be specified
The complete machine assembly should never be sprayed with or immersed in water
For a more thorough cleaning, dismantling components is an option
The machine MUST be isolated electrically before it is dismantled for inspection or cleaning
ADDITIONAL ASSISTANCE:
Contact Our Experts:
📞 1-800-4MIXERS
📧 schold@schold.com
Website References:
🏢 Main Page
🔧 Parts & Service
📄 Spec Sheets
🔎 PM Program PDF
See how you can receive
10% off on all wear parts!