PAINTS, INKS, AND COATINGS
Since 1949, Schold has worked with many companies in the paints, inks, and coatings industry and is a trusted leader in the space. Our high-speed dispersers, horizontal media mills, and multi-shaft mixers are widely used for processing a variety of these applications.
Overview
Paints, inks, and coatings are complex formulations that often require precise mixing equipment such as dispersers, mixers, and mills for processing. Whether you choose Schold or another partner, selecting the proper equipment is crucial for:
Consistency: Preventing clumping, separation, or sedimentation of raw materials, pigments, and solvents
Homogeneity: Ensuring uniform distribution of pigments and other ingredients, which affects color, gloss, and texture of the paint, ink, or coating
Particle Size Reduction: Reducing particle size of pigments and other solid particles, which affects opacity, viscosity, and stability
Viscosity Control: Breaking down agglomerates and reducing viscosity of the formulation, or increasing the viscosity by adding thickeners
Chemical Reaction: Ensuring proper mixing of the reactants, which affects the chemical reaction rate and final properties of the product
Scale-up: Producing consistent results and enabling efficient production of larger batches of the product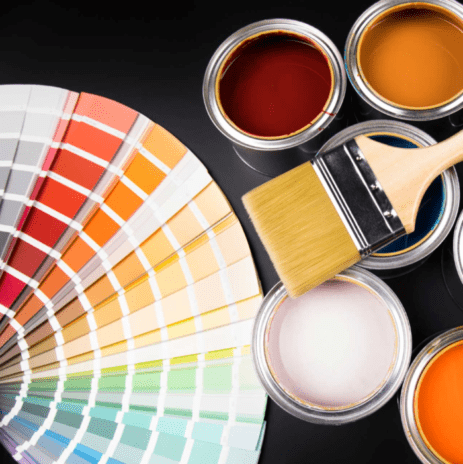 Product Applications
Paints, inks, and coatings are used in a wide range of industries, which require specific properties and performance. Our team of experts has worked with hundreds of companies in this space, and our equipment is custom designed to process these applications (along with many others):
Paint is used for a wide range of applications, from practical purposes such as protecting surfaces from corrosion and weathering to purely aesthetic ones, such as creating beautiful works of art or adding color and style to our surroundings.
Interior & Exterior Paints: Protects and decorates the surfaces of buildings, including to walls, ceilings, and other surfaces inside and outside the home
Automotive Paints: Protects and decorates cars, trucks, and other vehicles
Industrial Paints: Protects and decorate metal surfaces, such as machinery and equipment
Artistic Paints: Used in various forms of art, including canvas painting, mural painting, and graffiti
Furniture Paints: Decorates and protects furniture, such as chairs, tables, and cabinets
Decorative Paints: Decorative finishes on walls, such as stenciling, faux finishes, and textured finishes
Marine Paints: Protects and decorates boats and other watercraft
Sign Paints: Signs for businesses and other purposes
Floor Paints: Decorative and protective finishes on floors, such as in garages, workshops, and warehouses
Inks are versatile materials that can be used for many different purposes, from practical applications such as printing and marking products to creative pursuits such as art and design.
Printing Inks: Creates text and images on various surfaces, including paper, fabric, and plastic in printing presses
Writing Inks: Creates text and drawings in pens, markers, and other writing instruments
Artistic Expression Inks: Creates various forms of artwork, such as illustrations, calligraphy, and printmaking
Industrial Application Inks: For industrial processes such as marking and coding products, labeling packages, and printing barcodes
Security Inks: Creates security features on banknotes, passports, and other official documents
Tattoo Inks: For process of tattooing to create permanent designs on the skin
Textile Printing Inks: Creates designs on fabric for clothing, home décor, and other textile products
Packaging Inks: Prints logos, graphics, and text on packaging materials, such as boxes, bags, and containers
Coatings are versatile materials that can be applied to a wide range of surfaces and used for many different purposes, from protecting surfaces to enhancing their appearance or improving their performance.
Protective Coatings: Protects surfaces from weather, UV radiation, chemicals, abrasion, and other environmental factors (metal, concrete, and wood)
Decorative Coatings: Enhances the appearance of surfaces, adding color, texture, and gloss (walls, furniture, and automotive finishes)
Anti-corrosion Coatings: Protects metal surfaces from corrosion and rust (pipelines, bridges, offshore structures)
Heat-resistant Coatings: Protects surfaces from high temperatures, engines, exhaust systems, etc.)
Waterproof Coatings: Makes surfaces waterproof (roofing, concrete surfaces, and marine applications)
Food-grade Coatings: Makes surfaces safe for food handling and packaging (cans, containers, food processing equipment)
Medical Coatings: Makes surfaces biocompatible, antimicrobial, or hydrophobic in medical applications
Optical Coatings: Improves the performance of lenses, mirrors, and prisms, by reducing glare and increasing transmission
Recommended Processing Equipment
Here are the most common base models/designs used in the paints, inks, and coatings industry. The Schold team of experts can assist with any questions or customized options specific for your application.
Schold Customer Spotlights
After 70+ years in the business, Schold has accumulated a large, diverse customer base. We have hundreds of loyal customers in the paint, ink, and coatings industry – Handy Art and Kerley Ink are perfect examples:
Handy Art has been a trusted Schold partner since the early 1980s. As a family owned and operated company since 1974, they manufacture non-toxic, water based paints, inks, and glues. Handy Art has expanded throughout the years to meet demand and we are honored to be their exclusive mixing equipment partner.
"We chose Schold because of the robustness of their equipment, but the service excellence and high ethics were an added bonus. We didn't really have a maintenance department, so the amount of abuse these machines could take was essential. Schold has been a great partner and it has been exciting to see the development of their technology. We now have 6 mixers – all original, none retired to date from the early 80's!"

-Ansel Jackson, COO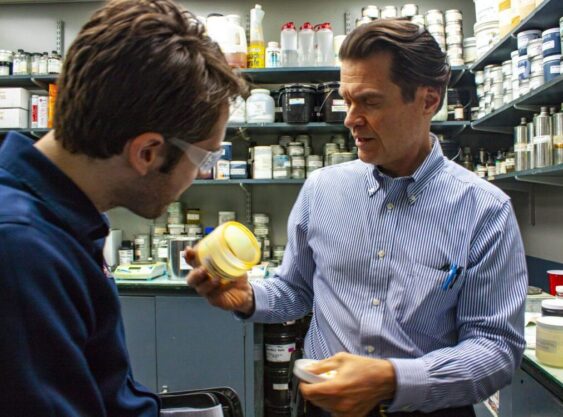 Long-time customer and industry partner, Kerley Ink is known for its major contributions to the printing trade. The Schold team met with President John Whalen to capture the partnership's long-standing history. Our founder, George Schold, worked with John's father to create custom mixing machinery robust enough to disperse the resin bases derived from tree sap so famously used in the Kerley product.
"We are almost entirely a Schold house with very little exception. The Schold retrofitting services have been very successful, and the VFD technology is so quiet, you can have a conversation next to the machine at full power. Our oldest machine is from the Kennedy era… it's been running strong ever since I was five years old!"

-John Whalen, President
TRUSTED PAINTS, INKS, & COATINGS COMPANIES USING SCHOLD EQUIPMENT: