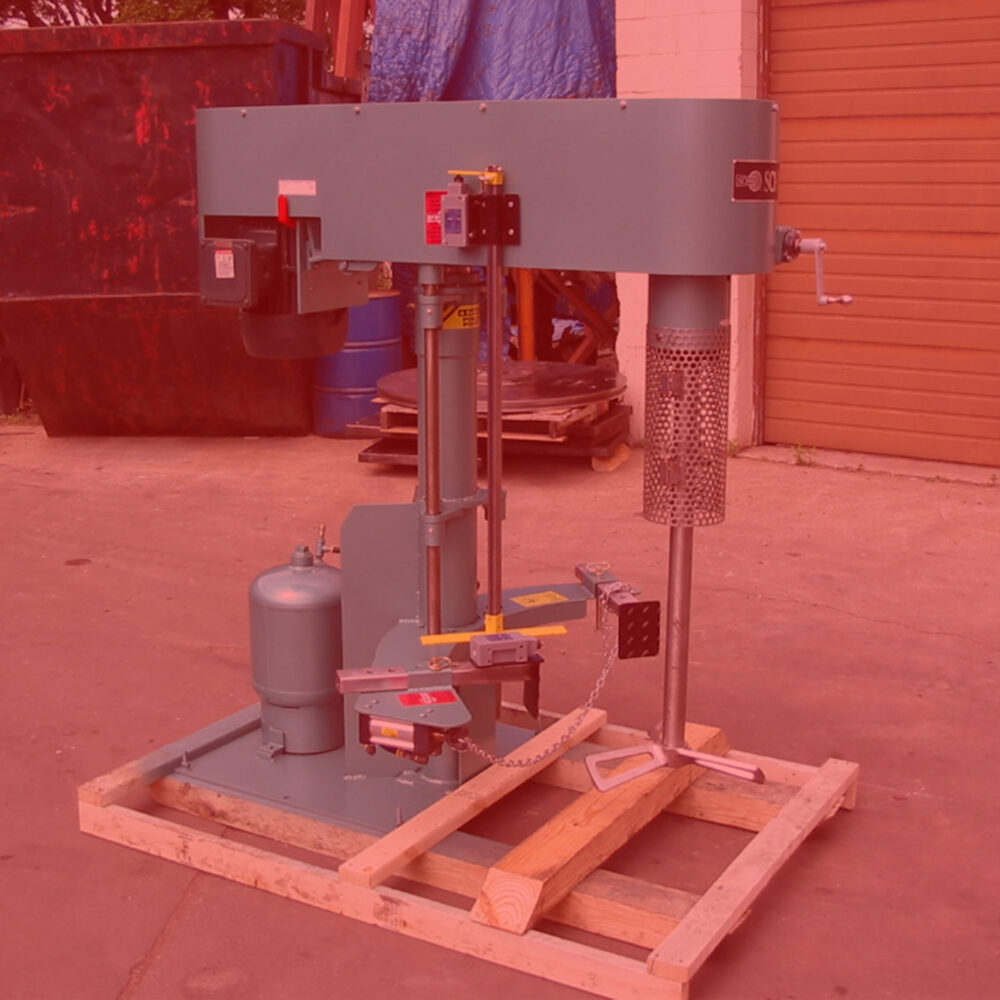 Being able to mix or disperse your product successfully requires a basic understanding of the fundamentals of dispersion equipment. Schold wants your equipment to last its full lifetime, so we've provided some tips to help you ensure that it does.
1) SIZE YOUR MACHINE APPROPRIATELY FOR YOUR APPLICATION
Many customers request a machine which is capable of processing several different product mixes. If the products are similar enough in viscosity and batch size, this is usually possible and preferred. However, in cases where the products are very different in those regards, sizing a mixer which would be capable of mixing both can be difficult or impossible. In these cases, providing a mixer sized between optimal for both products means that the customer will typically be running this mixer well outisde of its ideal range. This causes inefficient mixing, damaged parts and downtime. This is often more frustrating and costly in the long run than purchasing two machines – each optimally sized for its own application. Typically you will need 7.2HP to 10HP per 100 gallons of product, but this will depend on the viscosity and density of your specific product. Schold can help you determine the best strategy for your specific application.
2) RUN YOUR MACHINE AT PROPER SPEEDS
Dispersers are capable, and designed to run at tip speeds between 4800 and 5500 FPM. Running the disperser at lower than optimal spees does not generate the internal shear necessary to disperse products. Doing so for prolonged periods of time could overheat the motor (VFD controlled machines) as it is not running fast enough to adequately cool itself. Speeds above 5500 FPM have been found to be no more effective at dispersion and consume much more motor power. Always ensure that your mixer/disperser is properly sized for the product to be processed.
3) DON'T DUMP ALL SOLID INGREDIENTS ALL AT ONCE
Liquid product should always be added to the solution first. Once the mixer is running well in the liquid material, solid adds should be added gradually so that they are absorbed and dispersed by the machine as they are introduced. Bulk or surge loading the machine puts extreme stress on the blade and motor and can cause enough radial force to bend the shaft.
4) MAKE SURE THAT THE PRODUCT LIQUID LEVEL IS AT LEAST 1.5 BLADE DIAMETERS ABOVE THE BLADE (AT REST)
The mixer is most efficient when it is creating a vortex. A steady vortex signifies that there is turbulent flow, which is ideal for mixing different substances together. The nature of a vortex is that it pulls the liquid directly toward the blade, while raising the liquid level against the tank walls. Even in full vortex the liquid level must fully cover the blade. Filling the tank so that the liquid is 1.5 to 2.0 blade diameters above the blade face (at rest) will almost always guarantee that the blade will still be covered under full vortex. However, due to different product viscosities and tank geometries, the operator must always monitor the vortex as the mixer speed is increased to ensure the blade is still completely covered as the vortex grows.
5) REGULARLY CLEAN AND MAINTAIN YOUR MACHINE
Clean the shaft and blade as regularly as production allows. Production build-up on the shaft can cause imbalance and even bend it in extreme cases. Clear the motor, gearbox, and drive components (belts, pulleys, bearings, etc.) from dust regularly to prevent overheating. Grease all fittings weekly. Splatter build-up can cause leaks in the piston seal, so be sure to clean all splatter from the piston regularly. If this is a problem at your plant, Schold can provide a custom guard to protect the piston from splatter. Lip seals, belts, and other wear parts should be replaced at regular intervals when an inspection shows fatigue. Preventative Maintenance is KEY.
Schold can help with any mixing/dispersing questions or concerns you may have. Call us at 1-800-MIXERS, email us at Schold@Schold.com, or submit a request.